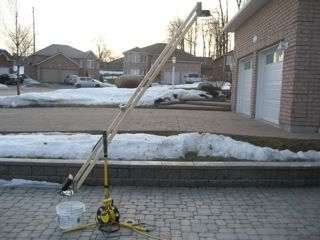 I have always been fascinated by overhead shots that seems to rise from bottom or drop from the top (see the intro of this video).  You will need some sort of camera crane to make this happen.
Instead of overspending on new equipment, you can learn to make your own DIY Camera Crane using some wood and a bucket to offset the weight of your camcorder/camera.
What a great idea, this is something I am definitely making for my future videos.
Over the past week I have been building a camera crane, or jib.  For those of you who do not know what a camera crane is, it is a device that allows you to take video from really high in the air to really low in the air.  The one I built costs about $25.00, but if you have an old stand and access to a welder and some scrap metal, you could build it for well under $10.00.