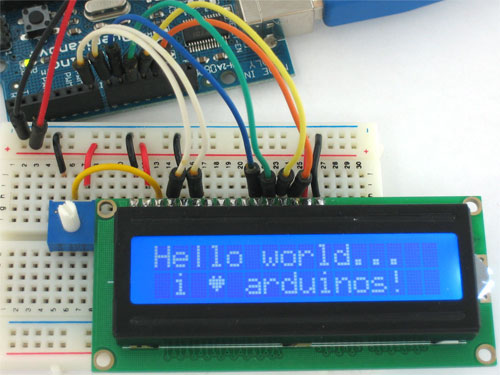 Lady Ada has a great tutorial on how to connect LCDs to the Arduino. For those of you new to LCD graphical interface to Arduino, this guide could be a great place to start.
Lady Ada goes into details of how to use character LCDs.  Of course, don't forget that you can also create simple animations using character LCDs.  They are also easiest to start on.  Also see my hack on a graphical LCD hacked with custom Tetris game and wireless.
This is a bit of a side note, there's no LCD included with the Arduino starter pack, but I figure its a popular request, so here we go!

The LCDs we sell at Adafruit have a low power LED backlight, run on +5v and require only 6 data pins to talk to. You can use any data pins you want!

This tutorial will cover character LCDs
Check out more interesting categories:
Circuits
,
DIY
,
Featured DIYs
,
Featured Gadgets
,
Featured Hacks
,
Gadgets
,
Hack
,
HOWTO
,
LCD
,
Microcontroller
,
Projects
.