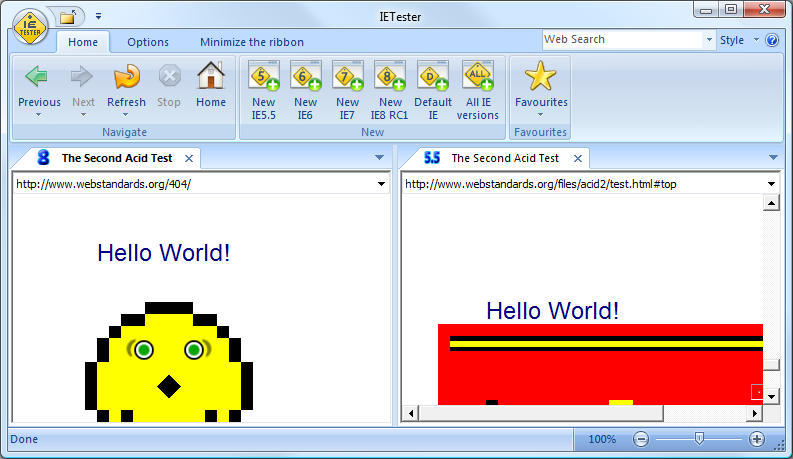 Thanks to invent of Windows 7, I no longer complain about how Vista sucks but I ran into one problem, that of testing my new blog designs on IE6 browsers.  I do have an Eee PC netbook that runs IE6 still but it's a pain to boot my netbook just to check my blog designs on the IE6.
For those of you already enjoying Windows 7, there's a cool little free program called IETester that will let you check your website's compatibility across all types of Internet Explorer browsers including IE 5.5, 6, 7, and 8.
I like this program a lot because I can also do testing for IE 5.5.
Why is testing for IE6 so important?
You have to realize that still a majority of people on public computers (such as libraries) are on IE6, not because they want to but because they don't have a choice.
For example, if you still receive 10% of your web traffic from IE6 browsers and your site doesn't load in IE6, you might be losing out on that valuable 10%.  This actually happened to me recently and I lost about $2000/month because some of my blogs would cause a bunch of error messages on IE6.   So, just a tip!
I am sure in a few years IE6 will eventually die out but you need to still make sure your website runs flawlessly on IE6.
I have also found out that the IETester picks up bugs better than the regular IE6.  For example, you might not pick up bugs on an IE6 SP3 while you do on IE6 SP1.  But IETester will pick up all of those and more.
Also, if you want to test it on a real IE6 browser, you can always install virtual machines like VMware or VirtualBox then load an old WinXP into it.  I actually do all of the above since I am fanatic about making sure my site runs well on all types of browser.
There's many website compatibility testing sites out there such as BrowserShots and NetRenderer.  I find that BrowserShots take way too long to actually render (making it useless unless you want to pay for its priority service) and plus, you really need to focus on IE6, Firefox, and Safari.  If your site loads well on IE6, Firefox, and Safari, the chances are that your website will load well on all other browsers.
I find NetRenderer a great way to do a quick-check on your IE6 compatibility if you don't have access to IETester or virtual machines.
Well, I hope you make sure your site loads well in all types of browsers and make sure they do because otherwise, you are losing some free web traffic.
Check out more interesting categories:
browser
,
Computer
,
Design
,
DIY
,
Featured DIYs
,
Featured Hacks
,
Featured Web
,
Hack
,
HOWTO
,
Projects
,
Web
.