Over the years, segway has been slowly gaining popularity, I've seen them used everywhere around where I live including malls (where security guards use them inside the mall), and even my own apartment complex's security guards, who zoom by my apartment on a daily basis.
Well, segways are great but are they worth paying for?  What if you wanted to build your own segway?
We've featured a slew of great segway DIYs here on Zedomax.com, let me re-cap some of them and also new ones I have found that will teach you how to build your own segway from scratch.
1) Tlb.org has been around for awhile and this guy's website probably has the best tutorials on how to build a segway from scratch.  I've mentioned it 4 years ago but still stands, perhaps the best site for DIY segways.
2) DIYSegway.blogspot.com has another great tutorial on his DIY segway build.  Free Arduino code is provided for the balancing so this might be a good resource for that.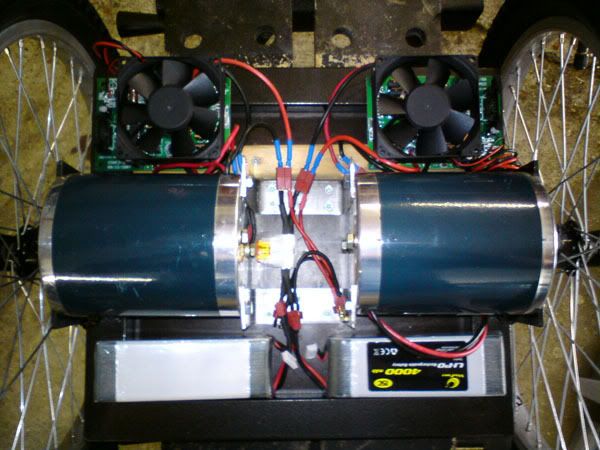 The MIT Segway has a really great layman's terms for how Segway functions:
Think of it this way: When you stumble, you don't (usually) let yourself fall flat on your face. Instead, you put a foot in front of you to "catch up" with you and get below your center of gravity. The segway works in the same way — when it detects you leaning forward, it moves forwards to catch up. When it detects you leaning backward, it moves backwards to catch up.
The self-balancing Segway robot isn't for humans but the concepts here can easily be applied/transferred to a full-build segway.  For segway robot DIYs, also looky here and here.  (Umm… lego segway too..)
3) Open-source Segway is another great one with great details on build/parts.
4) Here's another DIY segway done for a school projects, PDFs provided.
5) Okay, this one isn't really a segway but a "legway", still cool if you can build it:
Also, you can refer to this video of Segway factory for hardware used for regular Segways:
video://www.youtube.com/watch?v=OVCzB1AZPA0
Oh yeah, don't forget to check out these awesome custom Segway mods you might want to think of implementing on your custom Segway. (and Zoltar segway mod, OMG!)
Check out more interesting categories:
Arduino
,
Circuits
,
Computer
,
Design
,
DIY
,
Featured
,
Featured DIYs
,
Featured Gadgets
,
Featured Hacks
,
Gadgets
,
Hack
,
HOWTO
,
Microcontroller
,
Projects
,
segway-ting
.