My blogger friend Gyutae is having a contest for T-shirts and $100 in cash. All you gotta do is pick the right winner and write a blog post about it. (It seems like there's so many contests these days, you could probably make a living just entering all of them)
My vote goes to Gyutae's Winning the Web since he's always coming up with new contests. He's blog got a big 200 RSS reader jump from his contest on JohnChow.com and JohnCow.com. (Amazing!) (You should take look at Bloggin-Ads.com by Mike too, he picked up about the same in about the same period! I think these 2 bloggers are really growing their blogs explosively. I remember when Zedomax started out almost a year and half ago and I had 200 RSS readers in like 1 year, not just couple months.)
Why am I posting this? Well, honestly, I can't even afford a T-shirt right now as I invested all my money in SiteHoppin.com. (Well, for the beers I need to drink to be drunk to develop the site…right, it's like the Drunken style in Kung Fu, you can't master the art without actually putting yourself in it) I wanna win a T-shirt so I can go wear it proudly in downtown San Francisco. (j/k… I've been in front of a computer for so long for last couple months, I don't even know the last time I went shopping…)
The real funny part is picture from TylerCruz here: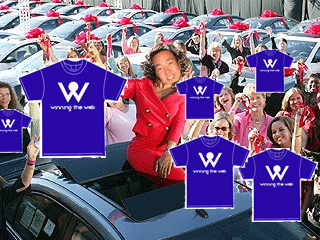 Also check out
Gyutae's post on 11 ways to maximize your blog subscribers
:
Follow a set posting schedule
Following a set schedule will help your readers connect to your blog and learn when to expect new posts. This usually means more subscribers to your blog.
Provide great content
In the end, it's all about great content. Without it, all of your marketing efforts will fall short of meeting your goals for feed subscribers. Make this a priority and the subscriptions will come.
In the end, I think Gyutae is winning the web by far. You can tell by looking at his blog and the number of subscribers he has picked up within the last month or so. This blog should be exploding by next month if it isn't already.
Other interesting stuff at Zedomax.com:
beers
,
Blog
,
bloggers
,
Blogs
,
Business
,
contests
,
drunken_style
,
funny_part
,
last_time
,
Misc
,
money
,
reader_jump
,
san_francisco
,
Social Networking
,
t_shirt
,
vote
,
Web